Again a triathlon competition. Again interval training made me faster than last year. And again there is a new business starting up selling sustainable sportswear. Read more in my detailed report about the sport from the Sports.Punk...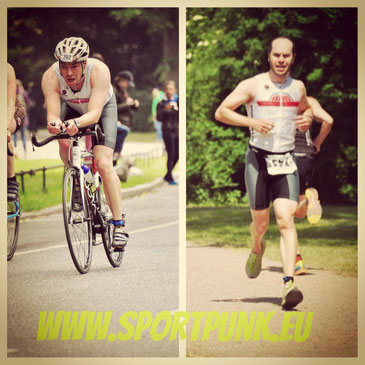 Yes, I did it again: I ran the second triathlon in the triathlon race series "Landesliga Hamburg": A sprint distance triathlon in Itzehoe, which is located at around one hour from Hamburg.

It was a wonderful day. To be honest the first real summer day in 2015. So we started happily to the event location. Our mobile phone that should act as navigation system ran out of battery. So we had to find our way without technology. Luckily on the highway exit, we encountered a car packed with triathlon bikes. So we had someone to follow ;-) Thanks for guiding us unknown guys!

After warming up a bit, I put on the neoprene and stepped into the still realtively cold water (16°C) and moved to the starting line. Start was from inside the lake.

As I started in the same distance at this same triathlon on exactly the same route in all three disciplines last year, I have a good comparison. The start came and I felt much better during the swim, even with colder water than the year before. So I finished the swimmming doing the best I can and was happy to step onto my bike.

Only the day before I was finally able to get the aero wheels onto my bike. So I was even more confident to push for a fast bikeride. Check out my little rocket:

And I did. The course was relatively hilly and windy, plus many curves. So quite technical, which is a plus for me coming from cycling.
Even though I focused on riding correctly, I got punished with a yellow card by one of the referees. I will not mention the situation in detail and accept this card. However, I am still not sure if it was justified. I have the impression that there are many many judges during triathlons. That is per se a good thing. But this situation showed me that so many judges focus on too much detail. I do these competitions for fun and I totally agree and promote fair play. But I personally don´t like it when every small mistake gets punished. Anyway, I also agree to the point that the judges sacrifice their freetime to make these competitions possible and fair for us athletes. So I don´t want to start a discussion. Just raising my opinion about it.

All in all Iam very thankful that there are the organizers that do a really hard job organizing those events and again Iam thankful to the judges having an eye on fairplay during the competitions.

Still the bike split was again the best part and a split position as sixth fastest in such a competition is really good. The run split was also quite good: The last lap ended in a very fair and nice battle. We pushed each other, bringing up our speed and in the end fighted in a nice sprint to the finish line. As to be seen on this short movie. Thanks man for this nice battle:

As I did in my last blogpost about the Stadtpark Triathlon, I compared my split times for Itzehoe between 2014 and 2015. As I said, it was exactly the same course. So just check the improvement in all three splits. I was very happy seeing the result. This is my fastest sprint triathlon: Personal record!

In the end many friends supported me during this race and I want to say thanks for coming and cheering! We had a good and relaxed time after the race hanging out at the event and enjoying the nice weather.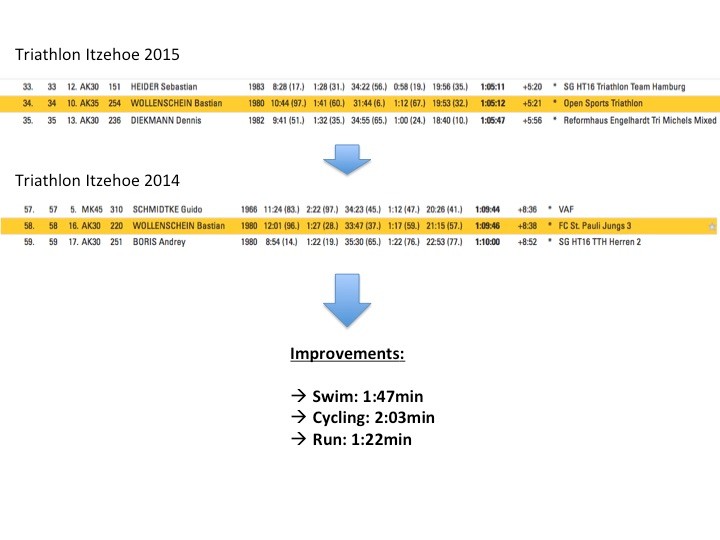 Sustainable sportswear
Talking about sustainability. I once wanted to know from you guys, what real sustainable sportswear means to you. So if you speak German, I´d be grateful if you participate in my small survey about this topic. Here you find the link. There is also the chance to win a sportsbook.