The Sports.Punk finished the first bike races and triathlon competitions for this year. Now it´s time for a check up: What are the results and in how far does continious training and smart planning really have a positive impact on this results?
This also makes me think about spending recovery periods more effective. That´s another positive aspect of this change. Since the training became harder, I need to start each training in a well recovered state. If not, I don´t even reach the objected training zones in terms of heart rate and power (measured in Watts).
Additionally, I started to measure my power output as mentioned in this blogpost. Even though Iam still at the beginning of training with a powermeter, I already realize the value this data gives to me.
Writing a blog
The fact that Iam reporting about my sport is another change that brings me further. While Iam telling you folks about my goals and training, Iam in the same time committing myself publicly to them. I also feel responsible to keep you updated about my sports and the things I do to become fit and fast.
Iam fascinated by the fact that sports like cycling and triathlon have so many facets and opportunities to become faster. So I am as well curious to discover new things to become fitter than before. All this things I want to share with you guys. My blog and my videos on Youtube are the platform for sharing these things with you.
But Iam also fascinated by the idea of sustainable sportswear. This is a market that still requires a lot of development. But Iam sure that more and more attention will be put on this area. As I mentioned before, triathlon and bike races have many facets and the equipment (like the garment) is one of them. Therefore this is an issue that motivates me to test for you and talk about it in this blog.
However, with this testing and blogging I found another motivator.
Triathlon results
There are many more factors that I changed like a new team, less meat in nutrition. But these are currently the most important changes that I see as driving me to the results of the first half year 2015. But, how did they work the first triathlons in 2015 for the Sports.Punk?
Exactly the mentioned changes have made me faster. At least this is what the results table tell me. There was at first the Vierlanden Triathlon. The result made me really happy. Just check it out in this video:
A 4th place in my age group and a 20th overall was more than I hoped for. Especially in biking all the training on crossbike and in Mallorca paid out totally.
The second triathlon race was just one week later with the Stadtpark Triathlon in Hamburg. It was the first triathlon in the Landesliga Hamburg. So competition was harder than the week before. Therefore my positions are not as good as in Vierlanden. But upon a tip from my triathlon pal, Fernando, I compared my split times in the Stadtpark Triathlon with 2014. If this is no proof for an improvement, than what: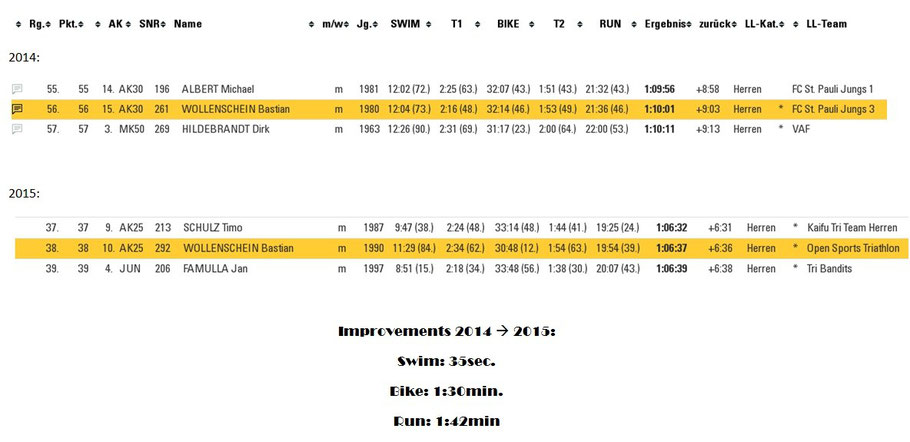 It was a great race as you can see on the result. The bike split went fluid and I gave it all. But the run split was even better. Having trained running quite few, I battled with two other guys and this brought our speed up. Just check out the running split time. Iam happy and looking forward to more races in 2015.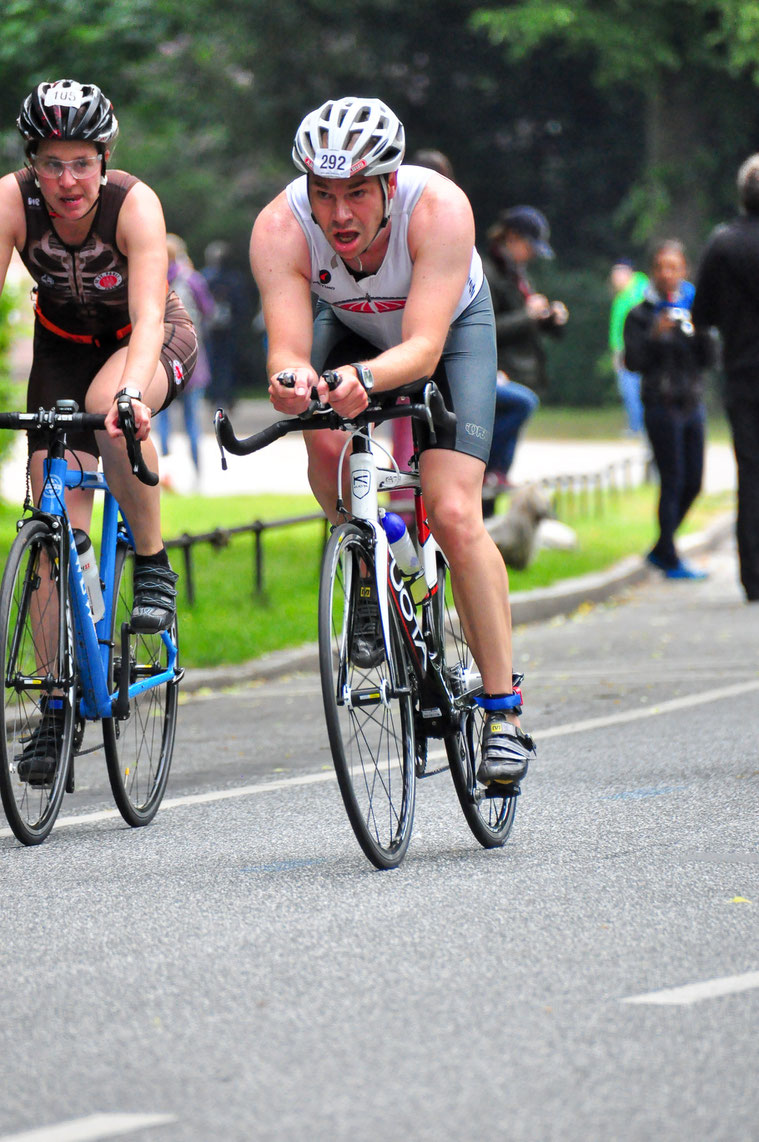 --> More pictures from that race you find on my foto page.

Besides being thankful to the Cycling Parents for pushing me to apply the Carmichael training method, I also realized that triathlon seems to be relatively independent from the age. I don´t say Iam old. But I see many very good triathletes that are much older than me. So the mental part seems to play a vital role especially in triathlon but also in other sports, of course. This is not new to me. But probably this is an area where I can look for more knowledge and thus for improvements.
Anyways, also the swimming part as my weakest discipline leaves me much room for improvement. And Iam looking forward to fill up this room in the future. I will keep you updated and will tell you in detail, what I do.
Only one thing you will never ever discover on my blog: doping. This is the part of the sport I totally regret and I deeply hope I will never change my mind on this. Doping is dishonest and unfair, not just to the others but also to yourself. I do sports to feel happy and healthy. If the results in a race are good, that´s nice. But it is not essential. Essential only is that I do sports for myself and therefore doping doesn´t make sense at all. It only destroys myself. If others need to take it, I primarily don´t care.
What do you think about that topic? Let´s discuss in the comments!