In the following I will shortly explain how to connect your Pebble smartwatch with the Runtastic app.
Using your Pebble smartwatch in connection with Runtastic, you easily have data like time elapsed, distance and average pace always visible at hand. At hand in its real meaning. Your smartphone stays in your pocket while your Pebble works as a running watch.
Just follow these easy steps: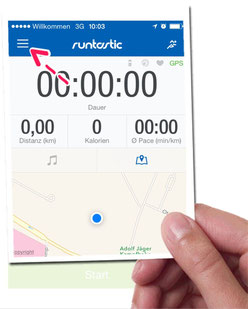 Before starting your Runtastic app, please check that Bluetooth is activated. Then, within the Runtastic app tip on the three stripes in the upper left corner of the app
---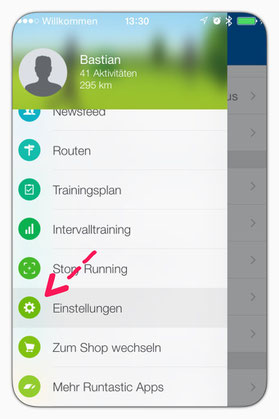 Then you go to "Settings". (By default my Runtastic is in German, which I cannot change. So, please apologize.)
---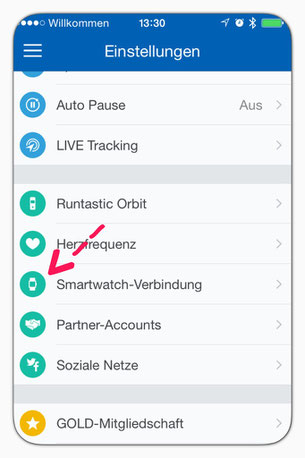 Next you choose "Smartwatch-Connections"
---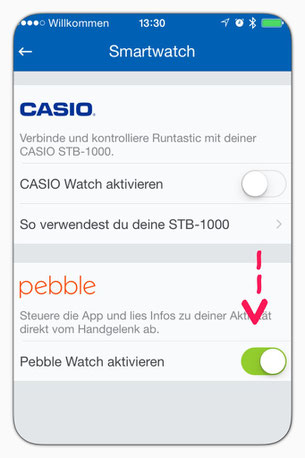 And finally just activate your pebble and shortly after that the watchface on your Pebble will change to show the mentioned data of your Runtastic app
---
For starting a running session you simply start it within the Runtastic app. From now on you can leave the phone in your pockets until the end of the running session.
Connecting your Pebble smartwatch with Runtastic only works with the upgraded Runtastic Pro. I don´t know what is the reason behind letting the free version of Runtastic be connected to the Casio STB-1000 smartwatch but not to the Pebble? But that´s how it is.
One thing regarding wearing the Pebble watch during a run: If you have your Pebble set that it turns on light by shaking it will be illuminated during the entire running session. This is comfortable especially when you are running in the dark. However, if your batteries are low, putting the shake+light – mode off prevents power loss of your Pebble watch during the run.
Of course it does not prevent you from losing running power ;-)
Have fun using your Pebble smartwatch for your next runs. I enjoy it a lot and from now on am using it in all my runs.
Let me know what your experiences are with using the Pebble for sports! Just use the comments box below.
More helpful links: